---
This is a page of links to other sites of interest, with a focus, of course, on the World Trade Center.
All these links (except ones to pages on this site) open in a new window.
---
The following three pictures were taken by my friend Margaret Olin on a trip she made to New York in October 2001 to photograph for her course on "memory and memorials." Her site with some moving photos is at http://www.artic.edu/~molin/index.html My deepest thanks for her permission to reproduce them here.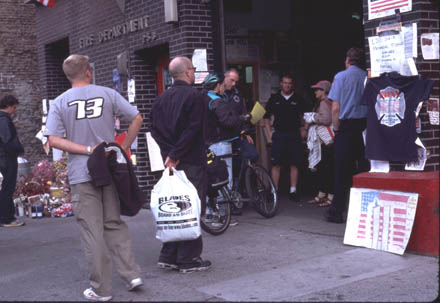 Working Fire Station
October 2001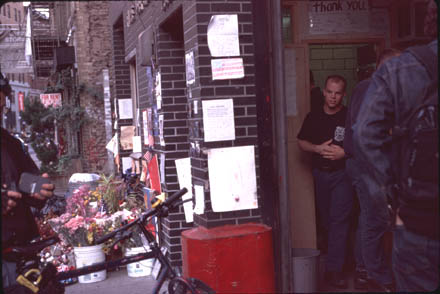 Fire Station
October 2001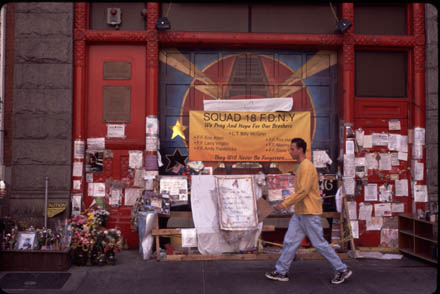 Squad 10
October 2001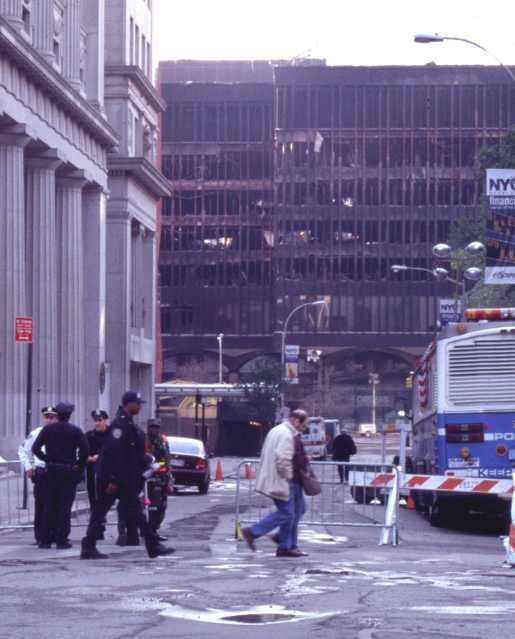 Borders
October 2001
In my "Weeks Later" section I describe this scene. The effect of this scene haunts me deeply and intensely. It is so incongruous, the overwhelming destruction from debris, explosion and fire, and yet, there it sits, windows intact, signage, books in the shelves, as if it was closed for the holidays. In all this, the art, the literature, the music, the best of mankind, survived.
---
Robert Going was one of those people you meet briefly that you wish you had spent more time getting to know them. He came to Respite 1 sometime in early November (I believe) as a DSHR from upstate New York. He quickly ended up as the "desert guy," the person in charge of the baked goods and the like. Not that we baked anything, everything was delivered, but it still needed to be prepped, cut, wrapped and delivered to the serving line. Breakfast time was especially tough, as we started serving it at 4:30AM but we would not get a bread and bagel delivery until 5:00AM (initial here!) and they would have to slice open dozens of bagels in a hurry, often with the dullest of tools. Somehow they always managed.
His group also made sandwiches from some often scary looking meat products. No one ever died from one, and people seemed to enjoy them. I think it was the love and care he and his people put into that thankless job, transformed them. I really do. Bob was a Judge and is now back in private law practice. His passion in life, though, seemed to be musicals, and he soon teamed up with one of our super-dedicated LDVs (she put in more hours then I did!) Danielle. She had just moved to New York from California to study theatre arts, and she too had a passion for the musical theater. Bob's delivery path took him through the kitchen, where I worked, and he would often stop to sing something with her. Although musicals are not my thing, it was always a special treat to hear them. And it helped make the kitchen routine a little bit easier. I didn't talk to Bob much, I don't know why. I am sorry I didn't. When he returned home he included me in his mailing list of some of his writings, both of his experiences at Ground Zero and of other events in his life. His writing was poignant, intense, and beautiful. Poetry. Like his singing. Bob has a site at http://going.freeservers.com/ and promises to add to it. I hope he does. Here are some of his photographs (with his permission and my thanks).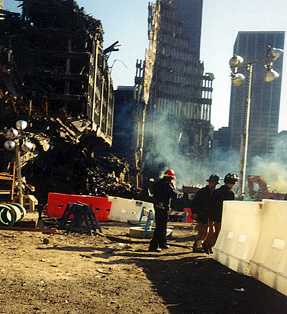 No Comment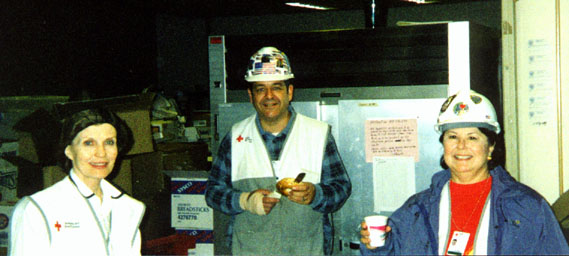 That's Bob in the middle in mid-bagel. One of the other two is an actor from the soap "As The World Turns."
---
Kevin Rosen is a friend I met through my consulting business. He worked for one of my clients in Utah. I took care of their communications equipment in a building not far from the Trade Center. We did most of our meetings over the telephone. He did come to New York at one point and we met for lunch. He is an ex-New Yorker, whose brother is a New York Police Officer who had his own close call on 9/11.
We maintained sporadic contact even after his company went out of business. He emailed me on 9/11 to make sure I was OK.
He has a nice site with some interesting stories and some great pictures. Check it out at: http://kkzan.webpipe.net/wtcmain.html
Kevin has been kind enough to link to my site from his site. I appreciate his patience in having me link to his site and kindness for caring.
---
Here are some general links.
The Federal Emergency Management Agency has a site with some incredible photographs. Go to http://www.fema.gov/diz01/d1391.htm and click on Photographs on the left hand side.
http://www.sep11photo.org/ is the web site of a gallery that was set up up the block from me as a place for people to display their photographs and other works of art that express peoples reaction to the attacks. The gallery was open until January 8th, 2002 and is now on tour. Check it out.
www.hereisnewyork.org is a link to a gallery that is selling original photographs of the disaster to raise money for the Children's Aid Society WTC Relief Fund. I can't vouch for them but I found out about them from a legitimate source. They have some stunning photographs. Check out their "About Us" page on their site for more information.
http://www.subwaywebnews.com has a section of WTC Photographs. I warn you though, they have loud, annoying music on their picture pages which you can't turn off. Turn your speakers down first! Web designers should know better already.
http://www.spaceimaging.com/newsroom/attack_gallery.htm has some satellite photos including one where you can see before and after.
http://www.nycsubway.org/irt/westside/wtc-damage/ has a similar set of photographs of the subway damage. Their site also has everything you could ever want to know about the Subway system. I often get lost on their site for hours.
http://www.nycrail.com/wtcnyct/ has a collection of photographs of the damage done to the subways in the area. They also are a site chock full of Subway information.
http://www.warriorpalace.com/wtc/ I just came across this site which is also a personal documentary and is very well done.
[ Back ]
---